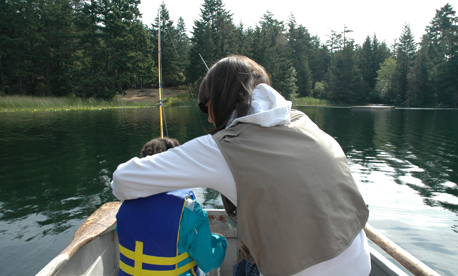 We're heading in the right direction in our household.
We have more positive interaction, more harmony. We have more good days now – more days of Josie at her best. She's affectionate, verbal, and expressive. After dinner last night she came over to me and told me she had a secret. She whispered I wuv you in my ear.
Sometimes in the evening we do a little stretching/yoga-business to calm ourselves down after a long day. She copies my moves. She focuses on my complex poses, the placement of my arms and legs.
One recent Sunday morning when Paul was out of town she came into my room early. She patted me on the head very gently and said, "I know you're tired Mommy, but it's time to get up. Take your time but you'll need to get up soon." She finished it off with a kiss on the cheek.
We can reason with her again. Standard discipline approaches – like Parenting with Love & Logic and the Incredible Years – seem more likely to work. We still have our power struggles but we recover and she's less likely to spend time screaming. She recovers.
She goes right to sleep an hour earlier than just a few months ago and she sleeps though the night.
The other morning when she was having a power struggle with her dad she walked into the kitchen, arms crossed, head down and said, "Daddy, it makes me feel sad when you talk at me that way."
We're just past her birthday and in the time of year when she's more balanced anyway. It happens every year. Maybe all this positive awesomeness is the usual ebb and flow of child development, maybe it's the result of a big verbal advancement, or maybe the dietary changes; maybe it's all due to the fading evening light. Maybe, and most likely, it's all of these things. It doesn't matter. I'm just glad it's here and that we're connecting again. I know we'll have hard times again in the future but for now I'm going to try to collect those moments, for all of us, so that when the next phase comes we have some good times in storage.