Who in This Room:
The Realities of Cancer, Fish, and Demolition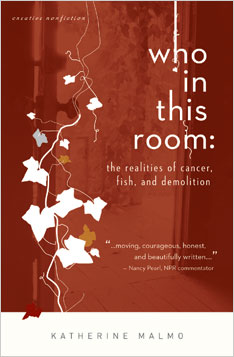 Based on autobiographic experiences, Who in This Room is a gripping collection of creative nonfiction that pushes the boundaries of story and memoir. Kate's adventurous life is interrupted by a diagnosis of inflammatory breast cancer, giving her a ten percent chance of living five years. But her story isn't just about cancer. It is a true tale of survival that is both lived and dreamt. It's about joy found in lemon trees or fly-fishing. It's about the survival instinct that helps us re-emerge and engage with the world.
In 2005 author Katherine Malmo was diagnosed with inflammatory breast cancer. She underwent twenty-seven weekly chemotherapy treatments, a bilateral mastectomy, and six weeks of radiation with support from family, friends, and the Young Survivor Coalition. Now a seven-year survivor, Katherine is a healthy, but sleep-deprived, mother of two adopted children.
Who in This Room was a finalist for the 2012 Washington State Book Award, a Silver Medalist in ForeWord Magazine's 2011 Book of the Year Awards, the winner of the Bellevue Literary Review's 2009 Goldberg Prize, and a winner of the 2007 Pacific Northwest Writers Association Literary Contest.
"It's pretty easy now for breast cancer stories to be swathed in pink, to be about survival and triumph, to have an easily identifiable arc. Katherine's book is like flint, like hard rock on frozen water. There's no sentimentality here. But there's no self-pity and wallowing in the details either. It's even funny in some parts. It's clear and strong and utterly horrifying. It's art, not a memoir."
~ Shauna Ahern, Gluten Free Girl and The Chef
"It's a hell of a thing for anyone to get diagnosed with aggressive breast cancer. Katherine Malmo shares the terror of that – and keeps going. Who In this Room puts breast cancer square in its place, right in the middle of life: messy, funny, scary, mundane, over-the-top-emotional life, life filled with fly-fishing and chemo, birthday parties and best friends and breast inserts. Malmo writes with honesty and a hard-won, appealing humor about the gritty and absurd aspects of living with cancer. That this young woman makes it out alive is amazing; by writing about it so gracefully, she lets us take heart from her long haul. Brava, Katherine Malmo. Who In this Room is an extraordinary achievement."
~ Summer Wood, author of Wrecker
"Who In This Room is an honest, unflinching look at life with cancer, welded into a thing of lyrical beauty.  Katherine Malmo, an observant and gifted writer, never misses the irony or insight of a moment, including the one that gives the book its title."
~ Erica Bauermeister, author of Joy For Beginners