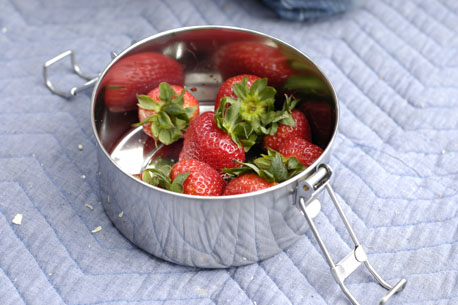 News flash: Labor Day is in 3 weeks. It's time to buy a new lunchbox! Even if you aren't in school, wouldn't you like a new lunchbox anyway? Shouldn't we all get a new one each year? I recently bought myself a tiffin and I love it. It's a great way to pack a salad or strawberries for the beach. It makes me so happy.
Of course our good friends at the Environmental Working Group have put together a back-to-school shopping guide complete with recommendations and materials to avoid. Here are some highlights from their report and some of my own recommendations.
Lunch boxes and bags – Since these touch food, it's important to get something that is BPA , PVC, phthalate and lead-paint free.
Sandwich bags – Reusable.
Water bottles – Stainless steel is the way to go.
Backpacks – EWG recommends one made of natural fibers, nylon or polyester instead of plastic.
Art supplies – From the EWG site: "Paints should be water-based to avoid solvents and colored with natural, non-metal pigments. Don't buy polymer clays that stay soft at room temperature or can be hardened in a home oven — they're made from PVC (polyvinyl chloride) and often contain phthalates."
Complete Report — For the complete report and more info on markers, pencils, paper and notebooks click here.  
You guys have any good recommendations?