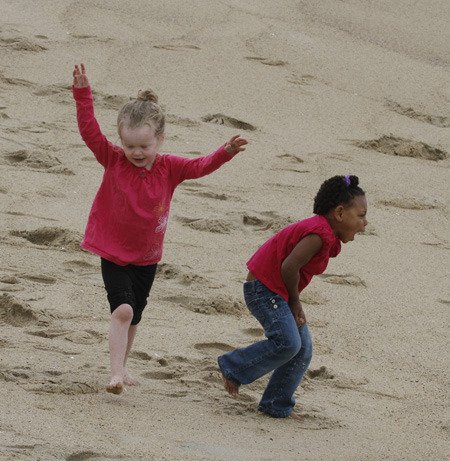 To continue where I left off the last post, this is all summarized from "The Peanut Puzzle: Could the Conventional Wisdom on Children and Allergies Be Wrong?"
Since the conventional wisdom about when to introduce solid foods to babies was overturned in 2008, Doctors Sampson and Sicherer have continued to study food allergies. They have been experimenting with giving children low doses of the food they are allergic to, sometimes in a different molecular structure, to reeducate the immune system that the food is acceptable.
They observed, "…for example, that baking caused milk proteins to change shape in a way that could be less provocative to the immune system. The allergic person might be able to eat the altered proteins and become tolerant of them in all their forms."
The article also follows Maya, a little girl with an anaphylactic reaction to milk. In spite of her parents' vigilance she'd had some frightening reactions. On a family outing she struggled to breathe and lost consciousness after eating something labeled "vegetarian cheese." Another time she was rushed to the hospital after eating a hot dog that contained milk protein.
Under the instruction of Sampson and Sicherer, and in the presence of a nurse, Maya was given a muffin that contained a small amount of milk. She took one bite and had no reaction. Then she ate the rest of the muffin and after a few minutes the vomiting started and hives appeared. They gave her an injection.
When the reaction stopped, they sent Maya home. Her parents received specific instructions to feed her baked goods containing milk every day. Maya came back six months later and they inserted an IV and had epinephrine at the ready. They gave her a slice of pizza. She ate the entire thing without a reaction.
"It was nothing less than miraculous," her mother said.
Maya returned the next day and drank a glass of milk. As soon as she finished drinking she began vomiting but they were able to control her reaction with Benadryl. A few months later, Maya was able to eat macaroni and cheese but still unable to tolerate a full glass of milk.
"Even if she never progresses past this," Maya's mom said.  "I have no regrets about being in the study, because now she can go to a birthday party and have a slice of pizza. It's huge."
It is miraculous. So miraculous that I was considering doing some baking. Then I remembered Josie's food allergies – egg, whitefish, soy and tree nuts. Codfish pecan muffins, anyone?