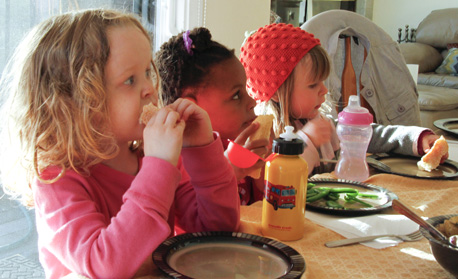 After my last post, I know you're all relieved to know that we finally settled in around the one pool in the greater Las Vegas area that did not have loud music. It was a plain rectangle that was in the shade of the high rises until 1:00 every afternoon but we made do.
The highlight of my reading was this: "The Peanut Puzzle: Could the Conventional Wisdom on Children and Allergies Be Wrong?" Sorry, they won't let you read the article.
Um… YES.
Since 2000 the "conventional wisdom," endorsed by the American Academy of Pediatrics, has said that parents should wait until a child is 6 months old before introducing solid foods. Then parents should start with the foods that are least likely to cause allergic reactions. This late introduction was thought to make children less likely to develop food allergies.
In the past decade peanut allergies have doubled. Clearly there's something wrong with our "conventional wisdom."
I hated giving Josie formula. Spooning powder from a can seemed like the antithesis of nourishment – it was the ultimate processed food. I was anxious to start her on solid foods, but I followed the conventional wisdom and waited until she was 6 months old to give her a bite of cooked sweet potato. In spite of my efforts, or maybe because of them, she's currently allergic to eggs, soy, white fish and tree nuts.
Doctors Hugh Sampson and Scott Sicherer at Mount Sinai Medical center have found that food allergens are unavoidable and babies come into contact with protein molecules though particles in the air and on skin and in other food and that by giving them such small doses we are actually making their systems more sensitive and more likely to develop allergic responses.
"You can't avoid food proteins," Sampson, said. "So when we put out these recommendations we allowed the infants to get intermittent and low-dose exposure, especially on the skin, which actually may have made them even more sensitive."
Based on a report submitted by Sampson and Sicherer, The American Academy of Pediatrics overturned this practice in January of 2008, stating – "Current evidence does not support a major role for maternal dietary restrictions during pregnancy or lactation… There is also little evidence that delaying the timing of the introduction of complementary foods beyond four to six months of age prevents the occurrence of [allergies]."
Now what? The retraction of the previous recommendation leaves a hole where the current advice should be placed, but there's nothing there. At this point, all we know is that we don't know what we thought we knew and I guess that's a great first step.
When did you introduce solids? How did that work out? Does your child have allergies?
To be continued…