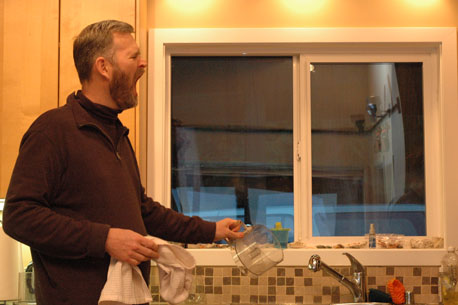 The house we live in now is where I intend to spend the majority of my life. That's a strange feeling. After I left my parent's house I was in a constant state of moving, always thinking of the next place, unsure of what furniture to buy and then not buying any because, who knows, the next place may have a square dining room and I may want a round, not rectangular, table.
Paul and I have looked at hundreds of houses in the Seattle area. Perhaps I'm difficult to please but that's a story for another post. There was one house that we almost bought. It had a style similar to ours, 1950's era, modern architecture, with a view of the lake. It was badly in need of a remodel and while we waited for an architect to meet us, I asked the selling agent about the giant front porch swing that was sitting in the middle of the living room. He said the owner, an elderly woman who raised her children there, drove half-an-hour every morning to sit in this chair and stare at the lake. She planned to do this every day until the house sold.
Then the architect came rushing in carrying on about plans to raise the ceiling ten feet and remove the wall that separated the living from the dining. I couldn't do it. When I looked over the old green carpets, I didn't see dirt and ick, I saw kids in soccer cleats and muddy dog prints. I didn't want to paint over this woman's childrens' growth charts. I didn't want to be the one to take this away from her.
We've been in our house for nearly three years now and I frequently think about the past owners, especially when I'm working in the yard. That's where I see their choices, their personalities most clearly. I also think about the future owners. Who will buy this house from us?
I wonder who will comment on the wear patterns in our hardwood floors, the path worn from the stove to the sink to the fridge. Who will frown at and sand out the dog scratches where her toenails raked around the corner of the cabinets frantic to get to her dinner? Who will curse me for the navy blue walls in my bathroom? Whoever it is, I hope they understand that this place, all of it, is my growth chart.