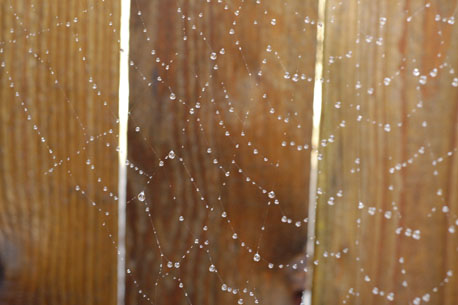 It's raining and snotty here. The berries on our neighbor's vines are all spent – no more cobbler. Josie was sick Monday and Tuesday and awake coughing and hacking into the night. Sailing season is over.
It would be a den of sadness over here if it weren't for my sister-in-law's visit from New Hampshire. Earlier this week we were walking through the grocery store with a certain, runny-nosed, three-year-old when I had a realization: it's almost pomegranate season.
If you're one of those people who hate pomegranates because they're such a pain to eat, listen up. First, choose a fruit that's heavy for its size. Then, when you get it home, fill a bowl with water. Cut into the skin with a knife and submerge the pomegranate. Separate the fruit from skin underwater. This keeps the juice from spurting all over your clothes. Once it's dissected, the peel will float to the surface and the seeds will sink. You can scoop the skin off the top and dump the seeds into a strainer to let them dry. Put them in a container and store them in your fridge. I love them on yogurt and cereal.
You? How do you like your pomegranates?