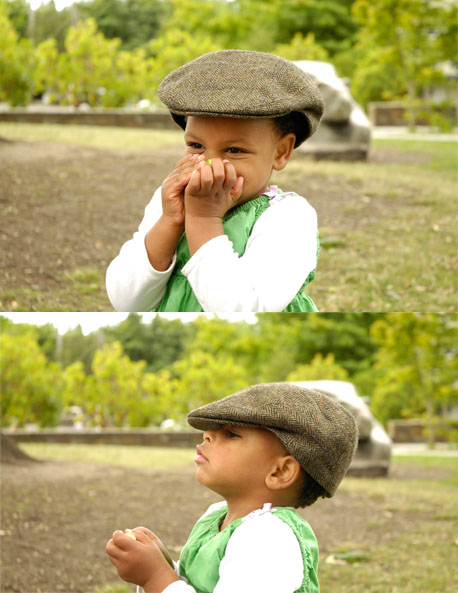 We're sitting in a gluten-free bakery/café last weekend waiting for our "pizza" and nothing-at-all-like-mac-and-cheese-but-still-kind-of-good dish (you know, that's the key to gluten-free eating, just banish the thought of what it should taste like and you might really enjoy it). Anyway, the "pizza" crust held together by nutshells wasn't really good but that's a story for another time. We were relying on a completely stoned, dreadlocked barista who seemed overwhelmed by my Groupon, as if she hadn't seen 2,000 of them already, and things were not looking good. The food was taking for-ev-er.
I use the word "sitting" loosely. Jose is alternating between hiding under a neighbor's table playing peek-a-boo with strangers, and running down the long hall to the kitchen. Dining experiences need to be planned well in advance, prepared for with crayons and paper and toys and discussion. The restaurant should be kid friendly, the food fast, and no one should be hungry when the expedition first sets out. In short, it's never a good idea for us Ellises to "stop in" anywhere for food, but we seem to need to re-learn that over and over. We are doing a pretty good job of disrupting everyone's fine Sunday afternoon with our last minute decision to stop for lunch. Josie is somewhere in the general vicinity of our table when a black man sits nearby.
"Mommy, why is he brown?"
Silence… [shit]… I thought she was supposed to ask that question when she was, like, 4. Damn it kid, I have 1.25 years to prepare my answer to that question! Instead of coming up with a good response, I say, "Hey, let's read this book together." Smooth.
In the car many minutes later, I'm ready. I ask her what color her skin is. Brown.
What color is Mommy's? White.
What color is Jada's? Brown. Alyssa's? Donnel's? Etc. Brown, brown, brown.
I make a mental note to put the Josie Book on top of her pile of bedtime books so we can revisit the pictures of her infancy and her birth mother.
What color is your hair? Black.
What color is Mommy's hair? You get the idea…
I say something like, well, your skin is brown because some of your ancestors, your grandparents' grandparents' grandparents, were from Africa. Mommy looks more like some of her ancestors who were from Norway.
She's quiet for a minute. She stares out the window. Then: "Sometimes my ancestors… My ancestors, sometimes they blow bubbles for me."