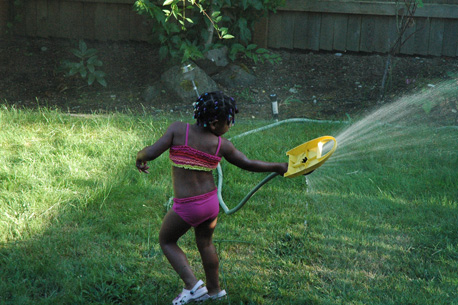 Josie's always been a strong girl. At her 2 week check up, the doctor did a test of her neck strength. She was on her back and he wrapped her little fingers around his index fingers and pulled her into a sitting position. Most newborn's heads fall to the side but Josie held hers perfectly straight. He said it was "remarkable" and that he'd never seen anything like that before.
Gradually she grew into a chubby baby while retaining that strength. At 18 months she was FAST with no concept of danger or sense of self-preservation. Even as she moved toward three she still had a layer of chub that created a misleading façade, a pink princess wrapper on a V6 engine.
Just in the last few months, Josie has lost most of her baby chub. Gone are the delicious dimpled thighs and, the part I notice most, the creases at her wrists. Gone. There are bones there now. It is SO strange.
Without the wrapper, the engine is on display.
Clearly, I need to find this girl some more athletics. Is training a four year old for an ironman excessive?
Only 50 more days until Who in This Room: The Realities of Cancer, Fish and Demolition comes out. Get your copy today!