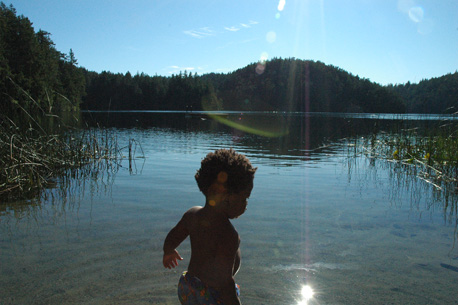 2011 has been a big year for us. Legendary. We met little K in June. Five months later Who in This Room: The Realities of Cancer, Fish, and Demolition is being published.
Perhaps one could say that in 2011 I was expecting two babies. But there are some very distinct differences. For example, Little K is much cuter than the book. And the book doesn't ask me to rub its head while I drive. The book doesn't pee through its diapers at night and occasionally scream out with night terrors. The book doesn't throw peas on the floor then burst into giant tears when you tell it to stop. The book doesn't shriek like a baby pterodactyl when it's tired. And, more notably, the book doesn't pull up my shirt and try to give me zerberts on the stomach.
Conversely, Little K doesn't sit quietly on my desk or in a box on my floor. He is rarely misplaced and never forgotten (although I can't say the same for his shoes). He doesn't have 139 neatly formatted pages and, so far, he doesn't have nearly as many words, but I know he will someday.
Really, there is only one baby.
But there are some similarities. Both feel like once in a lifetime events. Both are epic creations. Both bring me joy. I am so lucky, fortunate and grateful that they both exist.
Since becoming a parent, my goals for my children have changed. No longer do they need to be the leaders of the free world. After watching them speak with bits of food falling from their mouths, throw tantrums over already-chewed pieces of gum, and dress themselves in brown polka dotted leg warmers and yellow striped socks, I've learned that they are who they are. What will be will be.
Now, I simply hope my children will find things – subjects, sports, activities, hobbies – they like and that they're good at. I hope they can earn money in an endeavor related to this interest or some other career they enjoy. In short: I hope my children find their place in the world and people that make them happy.
My hopes for the book are similar. WITR had to be written. During and after treatment I was obsessed and consumed by those stories. I thought about them 24×7. I was working it all out, creating art from grief. It had to be done and now that it is done, I hope people discover its strengths and that people connect with it. In short: I hope it finds its place in the world and the people who love it.
That is all.
Who in This Room: The Realities of Cancer, Fish, and Demolition is out! You can buy it anywhere good books are sold.